Mangrove Bay Home Designs
Posted:
Mangrove Bay Home Designs
Mangrove Bay home designs are available in five succinct styles that allow for varying elevations, yet each is categorized among the Waterfront or Courtyard collections created for this new community emerging within Old Naples. Mangrove Bay home designs were inspired by the classic cottages so characteristic to a former era in Naples, but they are also fabulously modern and spacious. With prices starting from the low $2 millions, these one-story and two-story single-family homes provide from 2,600 square-feet to more than 3,800 square-feet of living area. Each Courtyard Series home comes with its own private entry guest house as a standard feature. The inclusion of a guest house is offered as an option in the Waterfront category of home styles. All homes, however, come with a range of exceptional interior and exterior elements which include gourmet island kitchens, granite counter-tops, exceedingly spacious walk-in closets and top-of-the-line appliances from companies such as Wolf, Sub-Zero and Bosch. Interior nuances include wood flooring, beamed or tongue-and-groove ceiling details, and corner-pocketed door systems. Exteriors are enhanced by features that include decorative street lighting, brick-paved driveways, gorgeous landscaping and private swimming pools. Underground utility features include modern fiber optics infrastructure, natural gas feeds, and buried power lines which help assure unobstructed views of the stellar skies above.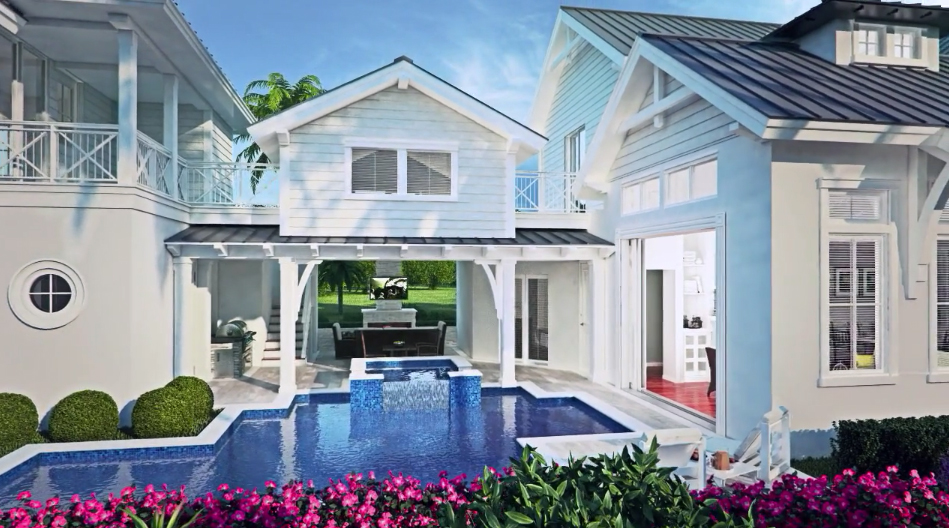 Exterior view from one of the home designs at Mangrove Bay
Distinguished Developers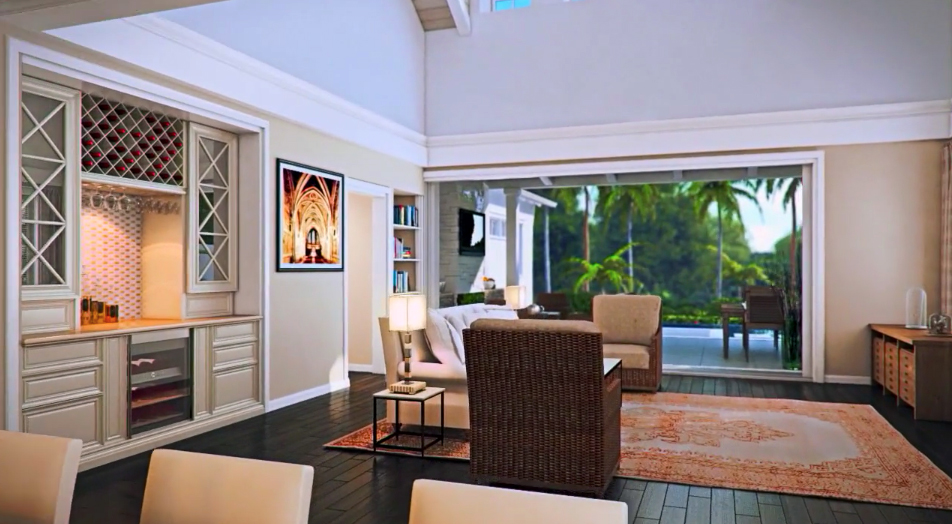 Gathering room in "Captiva" design
Mangrove Bay home designs exquisitely reflect the rare quality and caliber of professional expertise which has been uniquely galvanized for the development of this beautiful new community located along the Gordon River in Old Naples. The development team is led by Jon Rubinton, a second-generation developer and builder who formerly worked beside his father to create some of the most compelling custom homes and villa communities which were among the first of all that established in the prestigious Naples community of Pelican Bay. Rubinton, along with Partner Randy Porter and Senior Project Manager Randy Richards, are principals in the firm of Lotus Construction. This team has been responsible for the development of some of the most dynamic, high-dollar properties you can find in Southwest Florida. From glamorous Port Royal and Park Shore to marvelous Mediterra, Bonita Bay and Bay Colony, the attention-to-detail discipline and superior building standards advanced by this team have positioned Lotus Construction among Naples most respected and sought-after experts when it comes to the creation of luxury homes. Mangrove Bay home designs are further elevated by the extraordinary talent of Architect Matthew Kragh whose commitment to excellence has been recognized with numerous honors which include the  W.R. Frizell Medal of Honor, the highest distinction that can be bestowed by the Southwest Florida Chapter of the American Institute of Architects. Among the other professionals affiliated with Mangrove Bay include Landscape Architect Christian Andrea and Interior Designer Faith Fix. Within their respective fields of endeavor, both Andrea and Fix have also earned acclaim and top industry honors for their expertise which has been consistently evidenced among properties valued in the millions of dollars. To create something that stands out as "the best," you need to assemble the best team; and the appeal of Mangrove Bay no doubt culminates from the care, commitment and masterful capabilities of these professionals.
Nook with bench seating as seen in Sanibel design.
Kitchen in the Keewaydin home design.
Click here to register to receive more information on Mangrove Bay Home Designs